This
post
was originally published on
this site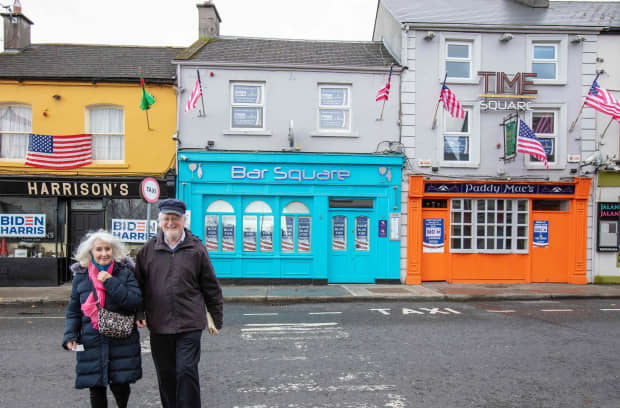 People walk by shops showing support for U.S. President-elect Joe Biden in his ancestral hometown of Ballina in County Mayo in northwest Ireland.
AFP via Getty Images
The U.K. has lost an enthusiastic supporter of Brexit with the electoral loss of President Donald Trump. It will add pressure on London to sign an agreement with the European Union and give up on its attempt to renege on last year's Ireland agreement. But time to strike a deal is running short
The U.K.'s controversial internal market bill gives the government the right to suspend or renege on several dispositions of a so-called Irish protocol signed last year with the EU to avoid setting up a border between Northern Ireland and the Republic of Ireland.
During his campaign, former Vice President Joe Biden sternly warned that there would not be any U.K.-U.S. trade deal if Prime Minister Boris Johnson persisted in the intention to push the bill through.
The bill is being examined on Monday by the House of Lords, which is widely expected to strike out the most controversial elements that a government minister admitted did "break international law."
EU chief negotiator Michel Barnier is back in London today for a 10-day intense negotiating session, seen as the last chance for the two sides to reach a compromise on the two contentious issues of fishing rights and state aid rules.
Johnson, for now, insists that he will push the internal market bill as is, and that although he does want to sign a deal, he is ready to walk away if the EU doesn't make concessions.
Sept. 2020: Biden to Brexit Britain: No trade deal with U.S. if you mess with Ireland
The outlook: Biden's aides have expressed their distaste for Johnson's politics and previous attacks on former President Barack Obama, putting the U.K. prime minister in a delicate personal and political situation. Added to the major economic risks of a "no-deal Brexit," it could be the last straw that forces the U.K. into signing a deal.
Johnson already knows that signing a trade deal with the U.K. isn't a priority of the new U.S. administration in the best of cases. And it will be a non-starter if his government keeps pushing the internal market bill in its original version, which risks erecting new borders between the two Irelands.
The U.S. election result adds a strong geopolitical incentive to sign a deal, on top of the old economic one: The U.K. economy is now threatened both by a new recession brought about by the second wave of coronavirus, and its exit from the European single market at the end of the year.
Read: Britain is unprepared for real Brexit: official reports