This post was originally published on this site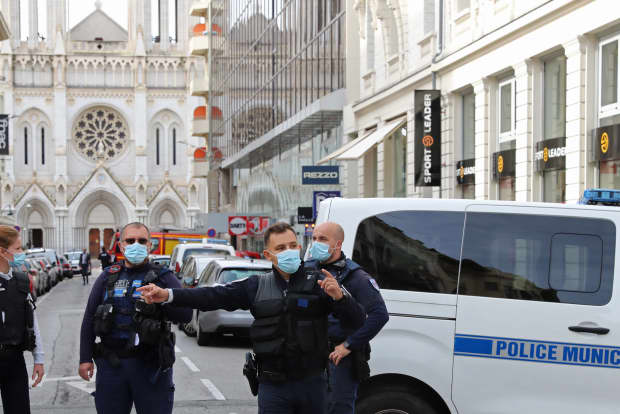 French police officers stand guard in the street leading to the Basilica of Notre-Dame de Nice after a knife attack in Nice on October 29, 2020.
AFP via Getty Images
A man armed with a knife killed two women and a man in a church in Nice, on the French riviera, in what authorities called a terrorist attack. The suspect was shot and wounded by the police and taken to a hospital.
The conservative Nice mayor Christian Estrosi said the man shouted "Allahu Akbar" several times as he was being arrested. He said one of the female victims had been decapitated.
According to witnesses quoted by French television channels, the suspect entered the church at 9 a.m. and was shot by the police at 9:10 a.m. Police have locked down the Nice city center.
Two weeks ago, secondary school teacher Samuel Paty, 47, was beheaded in the street on his way from work near Paris, after a discussion on free speech with his class, during which he showed a caricature of the prophet Muhammad.
During Paty's national funeral last week, French President Emmanuel Macron said that France was in an "existential" battle against Islamist fundamentalism, and vowed that France would never give up on free speech, including the right to caricature religions.
The outlook: French authorities have warned in recent weeks about the heightened risk of "street terrorists" and random attacks against citizens. Macron has another battle on his hand, just as he is trying to tackle the new COVID-19 surge.
Read: France-Turkey row reaches new highs after Erdoğan hurls insults at Macron