This post was originally published on this site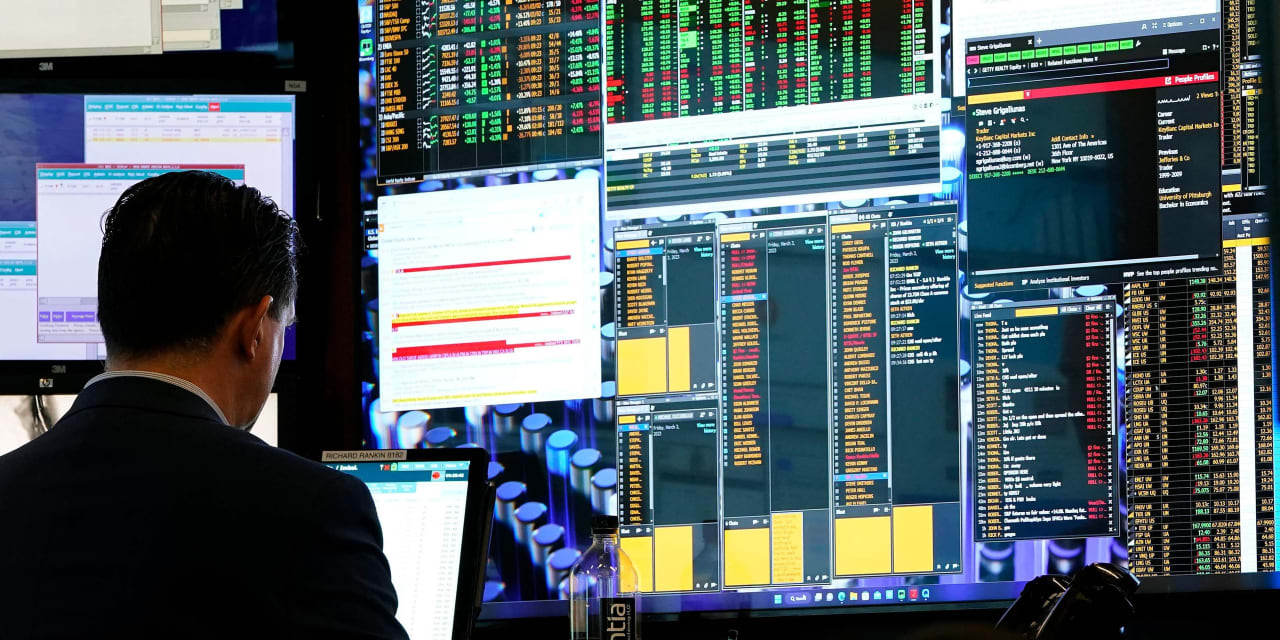 Shares of Zions Bancorp. N.A. fell after hours on Wednesday after the regional bank reported first-quarter profit that missed expectations, saying that deposits fell during the quarter and warning of pressure on revenue, as turmoil in the banking industry reroutes where people put their money.
The Salt Lake City-based bank — which lends to small businesses, commercial real estate and individuals across the western U.S. — reported first-quarter net income of $198 million, or $1.33 a share. That compared with $195 million, or $1.27 a share, in the same quarter last year.
Deposits fell 16%. The bank reported net interest income of $679 million, a 25% jump from a year ago. Net interest margin, or the difference between what banks take in from interest on loans and what they have to pay to depositors, came in at 3.33%, compared with 2.6% in the prior-year quarter.
Analysts polled by FactSet expected Zions
ZION,
+7.42%
to report earnings per share of $1.53. Those analysts expected net interest income of $688 million, with a net interest margin of 3.41%.
Zions reported earnings following concerns of a possible run on regional banks, as customers sought safer havens or better payouts following last month's collapse of Silicon Valley Bank, where most customers had money in their accounts that exceeded the FDIC's $250,000 limit. Signature Bank also failed, while Credit Suisse Group AG
CS,
-0.45%
and First Republic Bank had to race to secure their own forms of funding.
Chief Executive Harris Simmons said in a statement that "while events during the quarter accelerated a change in funding mix and costs that we expect will reduce the near-term quarterly 'run rate' of revenue by approximately 4%, we expect an increased focus on operating costs will offset a portion of this impact."
Shares fell 3.6% in after-hours trade.
During Zions' earnings call, Simmons said the company was taking steps to reduce risk in its commercial real-estate business — an industry that has faced more questions following the rise of pandemic-era remote or hybrid work and the prospect of a recession.
He said that after consumer funds at the bank rose during the pandemic, that trend reversed as the Federal Reserve began raising interest rates. But he downplayed concerns about the recent disarray elsewhere in the financial industry.
"In some respects, it's a case of the Fed giveth and the Fed taketh away," he said. "The deposit trends that we've seen in the latter part of 2022 and the first two months of this year was only modestly accelerated by any concerns generated by the bank failures. And the most valuable part of our deposit base, that constitutes the lion's share of our funding, was absolutely durable and even saw growth in the latter part of March."
Simmons said that the bank opened more than 7,000 net new accounts, with total balances of $629 million, between March 7 and March 31. He said any impact on net interest income, as banks compete for deposits and potentially dangle higher payments on those funds, was manageable.
JPMorgan analysts, in a research note this month, said that Wall Street's focus would be on how much in depositor funds smaller banks lost in the wake of the banking-industry tremors, and which banks lost disproportionately.
"To this end, we see deposit flows as the single most important metric to be analyzed this quarter, with this variable being directly tied to how much incremental downward pressure there is on (net interest margins) today as well as having direct implications for lending and the potential for a credit contraction to drive much higher credit costs via a slowing economy and/or a recession," the analysts said.
However, Western Alliance Bancorp
WAL,
+24.12%
on Tuesday reported a rebound in deposits, and said a majority of its deposits were insured, after rattled customers initially began to pull their money out. Shares rallied on the news.
Wedbush analysts on Wednesday upgraded Western Alliance to their version of buy, saying "the company should be able to successfully navigate through this turbulent time given its high level of insured deposits (73%), solid outlook for deposit growth, and prudent liquidity measures."
Other regional banks, such as PacWest Bancorp
PACW,
+13.18%
and Metropolitan Bank Holding Co.
MCB,
+17.79%,
also jumped on Wednesday. First Republic Bank
FRC,
+12.40%
C, another bank that catered to wealthy clients that had to be propped up by its larger peers, was also up on Wednesday.
Shares of Zions are still down 50% over the past 12 months, with a big part of that drop coming after Silicon Valley Bank's failure. By comparison, the S&P 500 Index
SPX,
-0.01%
has fallen 6.8% over that period.