This post was originally published on this site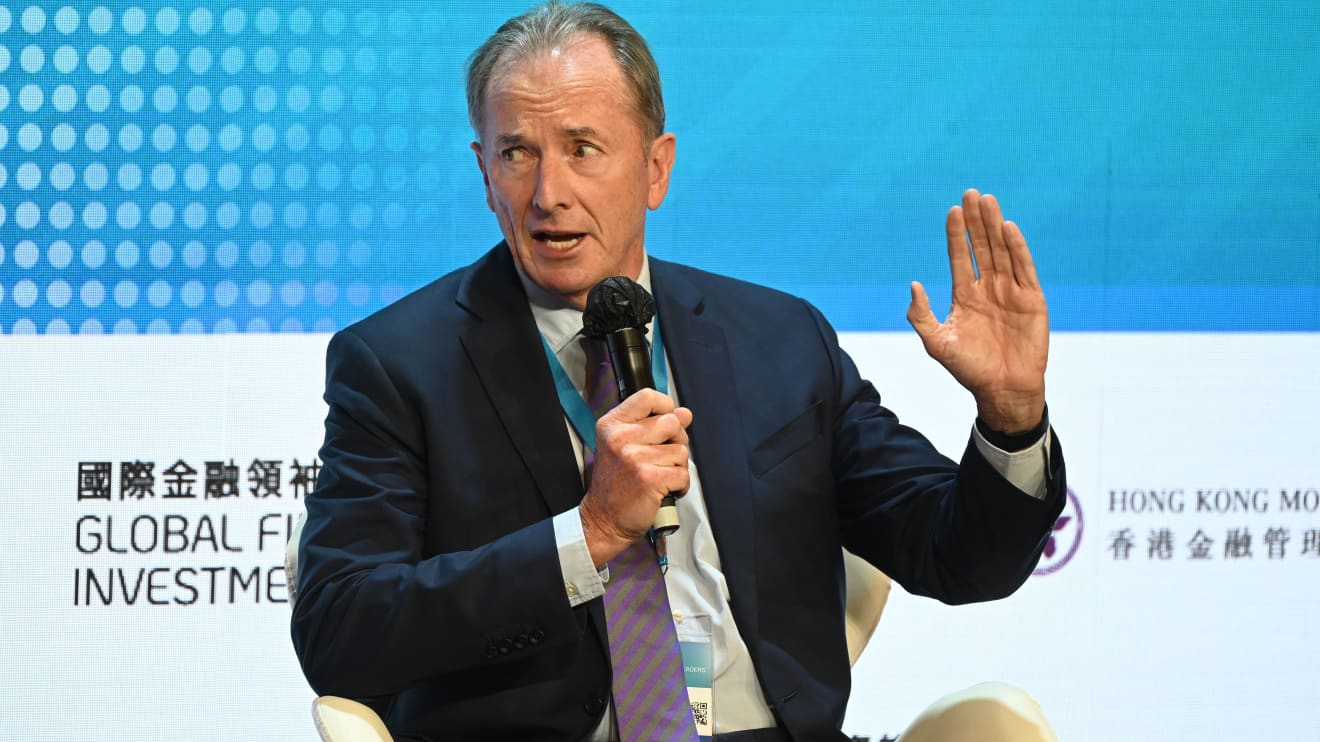 Morgan Stanley Chief Executive James Gorman once said he had no intention to die at his desk. So it came as no surprise when he disclosed a plan at the bank's annual general shareholder meeting to step down in the next 12 months.
He will assume the role of executive chairman for 'period of time.'
"The specific timing of the CEO transition has not been determined, but it is the board's and my expectation that it will occur at some point in the next 12 months," Gorman said, according to a transcript provided to MarketWatch. "That is the current expectation in the absence of a major change in the external environment."
Morgan Stanley's
MS,
-2.65%
board "has identified three very strong senior internal candidates for consideration as the next CEO," Gorman said. Three potential candidates include internal executives Edward "Ted" Pick, Andy Saperstein, and Dan Simkowitz, according to reports from Barron's and The Wall Street Journal.
Last year, Gorman, who joined Morgan Stanley in 2006, said he had no plans to retire "soon" from the bank. Gorman became CEO in 2010 and chairman in 2012.
"'Soon' is the operative word and the answer to that is no," Gorman, said at the bank's annual shareholder meeting in 2022 when asked if he planned to retire in the near term.
"But retire we all must do eventually, or die in our seats, which I have no intention of doing," he said last year. "I think healthy succession transitions for large, complex organizations and institutions are essential and that is a discussion I have with the board, at least on a yearly basis."
Gorman's vision on succession planning and retirement flies in the face of remarks made in 2021 by Jamie Dimon, the long-serving chief executive and chairman at JPMorgan
JPM,
-0.23%,
who said he planned to stay at the bank "till the day I die," according to the Financial Times.
Read: 'You don't want to die at your desk sending an email.' Beyond the numbers, are you ready to retire?
Having a 12-month runway for retirement—or even longer — is a smart idea for anyone contemplating retirement, said Joe Casey, managing partner of Retirement Wisdom in Princeton, N.J. Casey said it's important for near-retirees to envision three potential paths for their life over the next five years because plans often don't work out exactly as envisioned.
Nearly half of retirees actually retire earlier than they expected—most often because they felt they could afford to, because of a health problem or disability, or because of changes within their organization, according to Employee Benefit Research Institute (EBRI). The median retirement age among retirees is 62 years old, while workers' median expected retirement age is 65. Gorman is 64.
"A lot of people don't have control of when they will retire. It's very important to have a plan in place, as well as a Plan B or more to determine how will you use your skills and resources in retirement," Casey said. "Have a plan to retire and have a plan to retire to something — volunteering, going back to school, something to keep you engaged."
Of course, Gorman isn't the typical retiree that needs to worry about his retirement income stream. Gorman's total compensation for 2022 was $31.5 million, down 10% from the prior year, to according to regulatory filings.
Generally, most people need to save enough to have 75% to 85% of their pre-retirement income in retirement, according to experts. A good rule of thumb is to start saving as early as you can and put away about 12% to 15% of your annual income toward retirement.
Read: What's your retirement 'number'? How to figure it out.
In addition to what you do with your time in retirement, another big decisions to make when you retire is where to live. Gorman, an Australian who became a U.S. citizen in 2004, told the Australian Financial Review in 2018 he would love to play role in Australia's business community.
"I would like to do something for the Australian business community or the government sector to help the country, help the economy and just be part of that. I have a great affection for Australia," he told the AFR. "It would be great to take some of the things I have learnt here and try to apply them in some way."
(Gorman's office is reportedly stocked with Vegemite and Aboriginal art and memorabilia from his favorite Collingwood Football Club.)
He could also use the MarketWatch "Where Should I Retire" tool to narrow his options of where to live.
Virginia Berger, a certified professional coach, said that in addition to the financial aspects of work, people need to look at other benefits of work that need to be replicated or replaced when you retire. Working gives people a sense of purpose, status, a social network, and time management — a way to fill your day.
"Status is one thing that's often overlooked. Whether you're a custodian or a high level executive at Morgan Stanley, your job often becomes your identity," Berger said.
Another important factor for a successful retirement is not just mental stimulation, but physical activity. Exercise can lower risks of some cancers, depression, Type 2 diabetes and cardiovascular disease, among other conditions.
Read: Retirement could kill you if you don't start exercising. Try these 6 expert tips to launch a healthy habit.
Gorman reportedly likes boxing and rowing, so he's on a good path to stay active. Plus, he has a huge family, including nine siblings. So he has plenty to keep him busy.